Water is Life
Wellness Retreats
Feel the magic of our once-in-a-lifetime Caribbean wellness retreats
EXPERIENCE THE VIRGIN ISLANDS
Allow peace to wash over you as you anchor in more health and happiness.
Dulce Vita Sails has the leading St. John catamaran for wellness on the water. Join us for a wellness day retreat, overnight wellness retreat or book a custom wellness experience. Enjoy meditation, yoga, breathwork and more as you bask in the sun, sea and pure bliss of the Caribbean.
All retreats are open to the public. If you'd like to buy out a retreat or book a private custom wellness retreat charter, contact us today. Let's make your dream a reality.
Water Is Life Wellness Retreats
Experience a full day of wellness on the water! Cleanse and empower your energy as we practice wellness and sail around St. John and the nearby islands.
Relax and unwind with meditation, beach yoga, aromatherapy, sailing, snorkeling and more
Enjoy a fresh, nourishing, Caribbean-inspired lunch, island snacks, mocktails and cocktails
Take in the beauty of the Caribbean Sea, the Virgin Islands National Park, local reefs, beaches and hikes
Connect with other like-minded travelers (and locals!) and make life-long friends
Your captain will reach out before your trip to discuss your lunch options.
Pricing & Schedule



$200 per person
7:30 am – 2:30 pm
November 19, 2022
December 18, 2022
January 8, 2023
March 19, 2023
April 16, 2023
May 7, 2023
June 11, 2023
We love the ocean we sail on and the planet we live on! Only reef-safe sunscreen is allowed onboard (no spray sunscreen) and we'll share more tips to help you protect the reefs and sea life.
May 2023 Overnight Retreat
Join us for a Caribbean wellness retreat to immerse yourself in yoga, wellness, relaxation and rejuvenation.
Our retreats offer a combination of experiences from local facilitators and provide you with the opportunity to connect to yourself and the beautiful tropical paradise around you.
 May 19 – 22, 2023
4 days, 3 nights
St. John, U.S. Virgin Islands  
Beach yoga, meditation, sound healing, aromatherapy, new moon intention setting and more
Comfortable and private cabins with a queen-sized bed, a private head and shower, ample storage and a skylight (perfect for stargazing!) 
Delectable, fresh, locally-inspired snacks, meals, mocktails and cocktails
Coral reef snorkels, beach swims, island hikes and paddle-boarding
Ample, comfortable space for relaxation and quality time
 Pricing & Accommodations
3 cabins available per retreat, up to two guests per cabin
Share a cabin with a friend and pay only $1,800 each
OR enjoy a cabin to yourself for $3,600
[ Tip not included ]
All food, drinks, workshops included
50% of payment due upon reservation // second 50% due April 19, 2023

— Book via email or thru the 'CONTACT' link below —
See details below on travel tips! We're happy to help you plan your trip down so feel free to reach out to us.
Stay Tuned for More
Future Dates!
Contact us to build your own
wellness sail!
Getting Here
Airport : Cyril E. King Airport on St. Thomas, USVI [airport code STT]
To get to St. John, you'll take a taxi to Red Hook and then a short ferry ride to St. John.
Taxi rides from the airport take about 30-45 minutes and cost about $20 per person. The St. John ferries run on the hour, take about 15 minutes and cost $8 per person. 
We pick up guests at the National Park dock in the center of Cruz Bay, St. John. It is about a 3-minute walk from the passenger ferry.
When possible, we suggest flying into St. Thomas airport the day before and staying overnight on St. Thomas or St. John to ensure you're ready for our 3pm St. John dock pick-up. 
If you need to fly on the same day of the retreat, please allow for at least 3-4 hours from your flight arrival time to get to St. John (more if you choose to check a bag). 
Staying Here
Recommended Hotels on St. John 
Tamarind Inn (affordable, basic accommodations close to town)

Cinnamon Bay Campground (glamping on the beach)

St. John Inn (Caribbean hotel accommodations close to town)

The Westin (upscale resort accommodations)
.
Contact us for any retreat questions, travel guidance or other inquiries!
Bringing wellness to the water.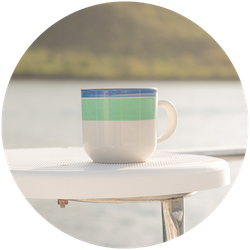 Perfect sailing excursion!! We were served quiche and fresh fruit for brunch and a great sandwich for lunch-and drinks all day long. Dulce and Cat took us right to the sea turtles and I loved bed swimming around with them. Dulce is very knowledgeable and confident with her beautiful sailboat. Our trip was perfect!!! Can not wait to do it again!!
– Sharon DeVane Waters
Embrace the magic of St. John, awaken your body and open your heart.
We're so excited to have you aboard & give you the experience of a lifetime